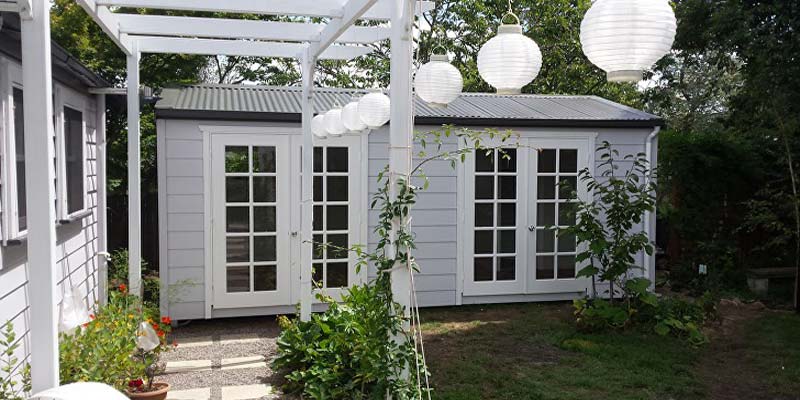 Not every suburban home has a shed in the backyard, but where this is possible there are many advantages, from extra storage space for the lawnmower, kids bikes and golf clubs to a place to work from when you are doing DIY projects. You can even clean it up for a teen's birthday party or make it into a playroom for the children.  You could sit there and do your own hobbies while they play.
But one thing you would probably be concerned about is what the shed looks like. If you have a house you are proud of, adding any kind of old shed will only devalue your property. That is why it is important to take care with the design and the materials used. Don't find some cheap material that is half worn out already for your shed. A new shed should be built with new materials so it looks spick and span, not like an old wreck.
If you have Colorbond roofing on your home, it is easy to build a shed to match by using the same material for the shed roof. In fact, Colorbond cladding can also be used too, either in the same colour or in one that matches the colour of the house walls. There are so many lovely colours to choose from in the Colorbond range that this will not be a difficult thing to do. Matching up the colours will unify the whole look of the home and shed.
You will also need to have guttering on the shed roof to drain away the rainwater, so why not have that match your home as well? Your shed will then look like a miniature home, a reflection of the good taste you put into your house. You could even plant some flowers around the shed to make it look even prettier. That way, should you ever decide to sell,  the shed will be a visible asset to add to your home, rather than an eyesore you want to keep hidden away.
If you don't use Colorbond cladding for the walls, you may be able to match the exterior of your home in colour, if not in material. Colour is an important element that can be used to create beauty and ensure that your shed is one to be proud of. It can contrast, complement or match depending on your taste, allowing you to be as creative as you like.
A nice lawn out the front of the shed and even some outdoor chairs and a table will enhance your space and make sure that everyone in the family can enjoy it as well as getting good use out of that new shed.
---