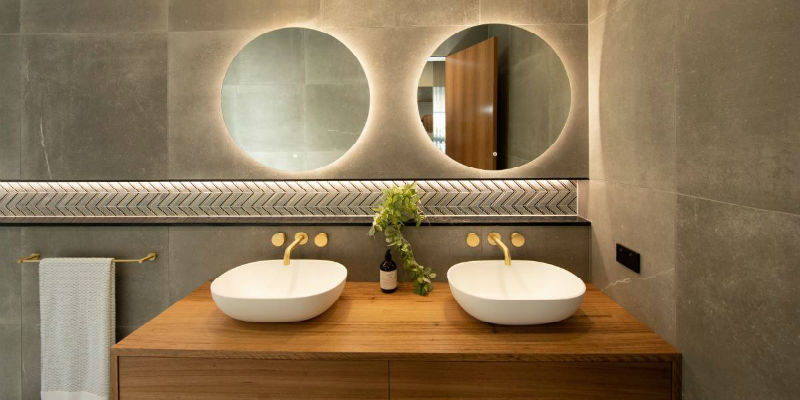 According to bathroom and kitchen cabinet company colraycabinets.com.au, in the middle of a routine, busy schedule, the time you spend relaxing, rejuvenating, and refreshing yourself in the bathroom is perhaps one of the few extended breaks you may get. This is true regardless of whether you are a professional who is working full-time, a work-from-home kind of person, or even a stay-at-home mom. Somehow, the stress manages to catch up with everyone.
Styling your bathroom in an aesthetically inviting manner will help you fight the blues away. These styling projects can either involve a professional bathroom renovation company or a DIY approach.
If you don't want to involve a reasonable budget, endless hours, and a panel of experts, you can give the most beautiful finishing touches to your bathroom space by trying a few of these DIY techniques.
Mirror on the wall – A mirror is a must in any bathroom. The important thing is to make sure the mirror adds to the décor instead of taking away from it. You can add a frame to your mirror to give it a more defining territory. All you have to do is use some moulding to create the frame, and then you're free to paint it in whatever colours or patterns you choose. Another tip is to prevent your mirror from clouding up by wiping it with some shaving cream instead of a normal cloth or tissues. This leaves no stains on the mirror's surface.
Play around with those shower curtains – Shower curtains are one of the most prominent portions of a bathroom, especially if the space is tiny. You can use this to your advantage by installing two shower curtains instead of one, and having them slide open away from each other to let you in. This gives the feel of having a door to the shower, and it increases the perceived space of the area. If you can only have a single curtain, make sure to space it on the rod in such a manner that there is empty space on either side of the curtain, so that air circulation is unhindered.
Organizing the paraphernalia – If you are anything like the average person, over time, you will no doubt acquire a collection of lotions and shampoos and all kinds of skin and body care items. And also, there are the hair care bottles and makeup items to deal with. Instead of placing them all on a couple of large shelves, break them down categorically and use smaller racks to store them. This makes it easier to find something you need, and it also gives a tidier and more classic appearance to the bathroom space. You can use tiered racks, for example. They look good, and serve your purpose as well.
The towels in your bathroom – How you organize your towels is important, not only from an aesthetic point of view, but also from the 'health and hygiene; perspective. If you are sharing the bathroom with someone, you could use hooks to hang your towels on separate markers instead of sharing a common towel hanger. You could also use three or four tiered rods behind the door to your bathroom to hang a set of towels. This way, you can keep them from interfering with the general décor of the bathroom space. Additionally, it is also useful for tiny bathroom spaces, as it serves as an effective way to maximize space with minimal efforts.
---